Throw Pillows for Your Home
Throw pillows help to add a little pizazz to your home. You can use throw pillows to tie colors together or just to add a sudden dollop of color to brighten up a more neutral room. You can also use throw pillows to add a kooky element into the room for a flash of personality.

I love throw pillows and like to add them for lots of different reasons in lots of different rooms. In a bar or recreational room I'd add some retro feel or fun inspired throw pillows and in a bedroom I might add some softer colors for a touch of romance.

Let's have a look at a few cool throw pillows that I like at the moment.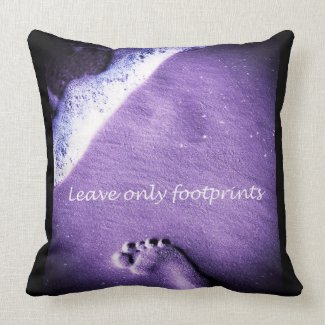 Leave Only Footprints Throw Pillow by lou165
I do love this throw pillow and not just because I designed it myself I should add! It's a throw pillow that looks great (who doesn't like a purple and black combination?) while also having a cool message as well.
I think this would look well in a number of teenage girls bedrooms as they do seem to think that they are the only ones who care about the planet when they hit their teen years don't they? Purple and black is also a cool color combination for that age group at the moment apparently (I'm not going to mention that it was when I was that age too!).
Personally I'm thinking of getting this one for my home office when I finally get around to getting it decorated, well every time I look at it I think that although I'm also flirting with some other decorating ideas which really won't gel with this cushion!
There are lots of other cool throw pillows to choose from though including some really cute designs, some funny designs and just basically ones that appeal to me - I hope you enjoy them as much as I've enjoyed showing you them.

Throw Pillows in Lots of Different Colors
If you want to add a touch of color to a room then, as I've said above, a throw pillow is a great way to do it. I've written about a number of different colored throw pillows at a few places online so if you're after a specific color then you can go straight to a cool selection from here -
More Cushions to Choose From